TANK ANALYSIS
Quickly and accurately map the whole tank floor using our 3D laser scanners
SPECIALISTS IN THE PROCESS INDUSTRY CUTTING EDGE 3D SCANNING TECHNOLOGY MAPPING YOUR SITE FOR ANALYSIS, MODELING, AND DOCUMENTATION
For bulk storage operators, capturing accurate tank data is an intrinsic part of ensuring efficient day-to-day running of your facility. Whether it's for production, engineering, maintenance or health & safety, having a complete record that can be easily shared with colleagues across the globe is invaluable.
You will no longer require temporary access platforms to elevate your traditional equipment into position to collect tank surface information, nor will you be limited to a few hundred data points providing minimal information for your reports. 3D laser scanning is cost-effective and very fast, providing many millions of data points for analysis and reporting.
In worst-case scenarios, inaccuracy or absence of data can lead to costly incidents such as a storage tank rupture, with consequential costly repairs, loss of production and negative environmental impact. The storage sector has already benefited from our 3D laser scanning technology, supported by our tank analysis program.
Tank scanning can be completed before influencing factors such as temperature or tank contents affect your results. We produce full tank analysis reports tailored to your requirements.
80M DIAMETER TANK RECORDED FROM A SINGLE DAYS' SCANNING AT AN ACCURACY OF +/-1MM
SCAN DATA
EXAMPLE
The image left shows raw scan data of a tank. Our tank analysis reports provide a number of outputs:
Rollout gradient map, radial deflection, shell verticality,
tank settlement, bund volume analysis, tank calibration,
tank floor level analysis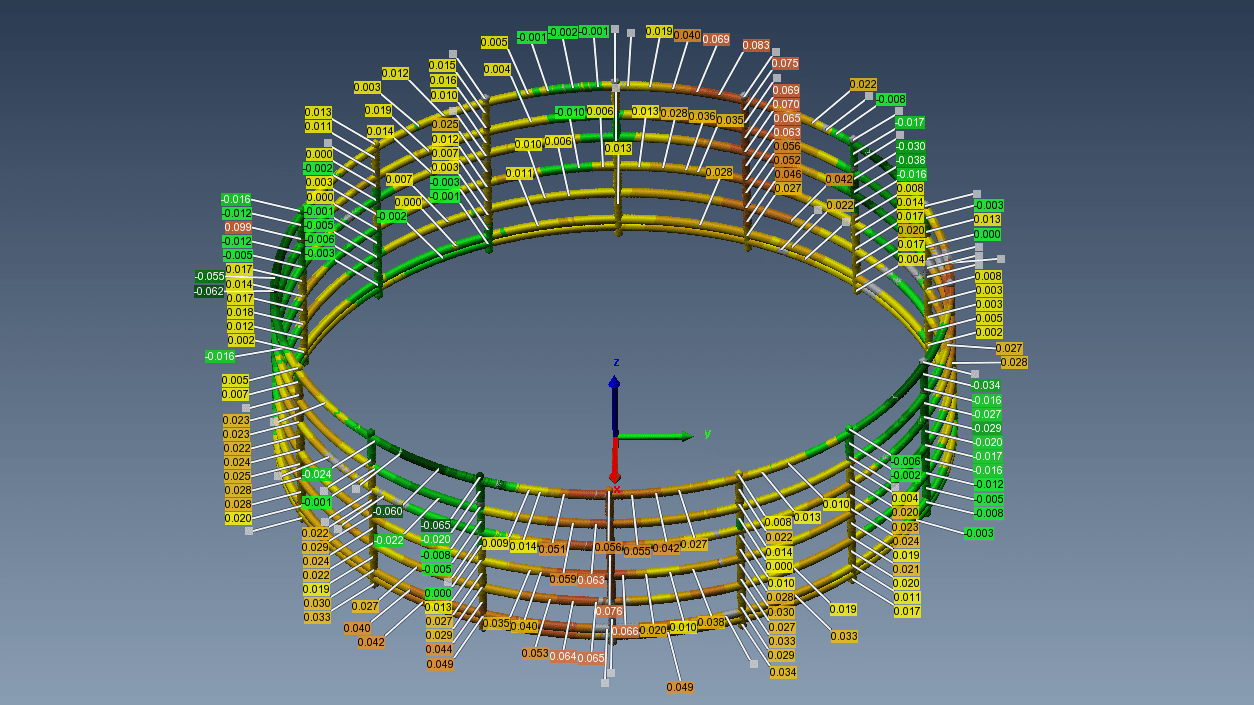 By taking radial cuts horizontally through the middle of each tank plate (as many as required) we can observe the radial deflection of a tank compared to a true cylinder (an accurate 3D model of the tank)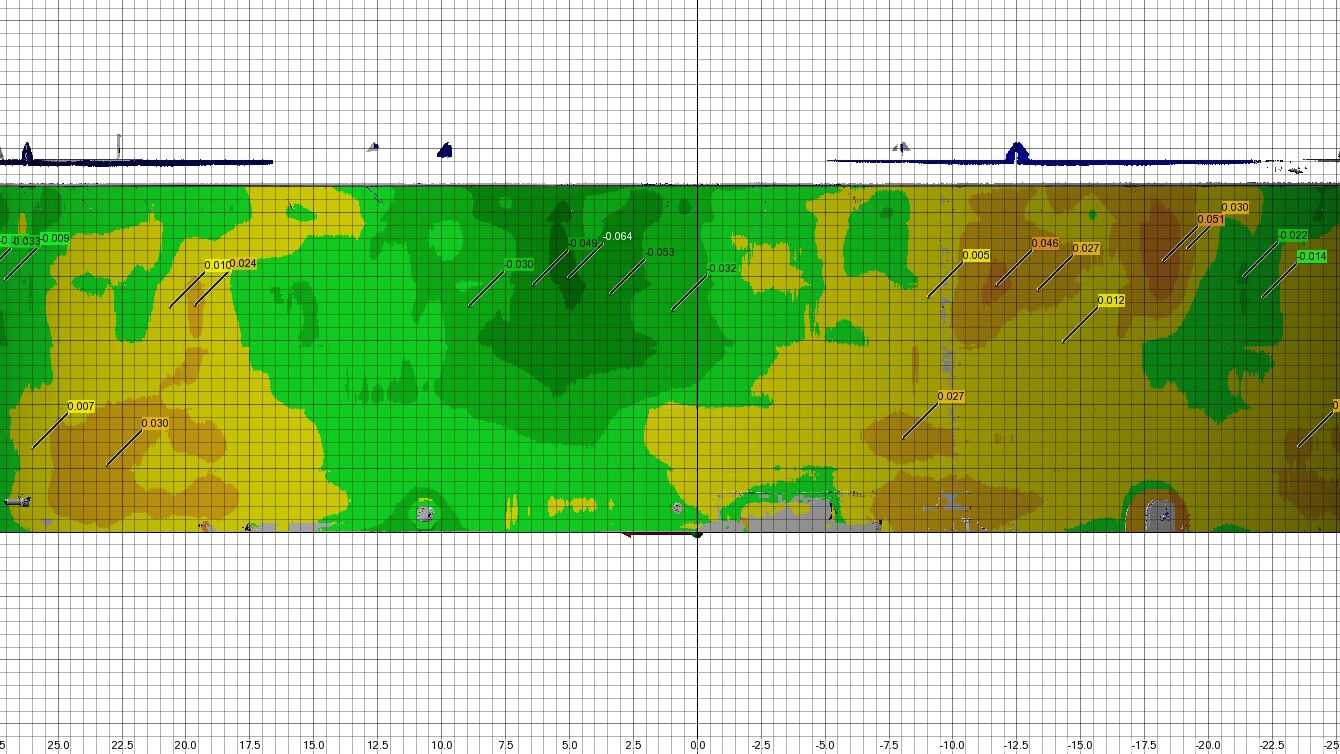 An 3D Model serves multiple purposes in the battle to save time and capital. New projects/works must overcome a multitude of design hurdles, including how they will fit/tie into your existing brownfield site. Our maps are able to provide the smallest of details to help you plan.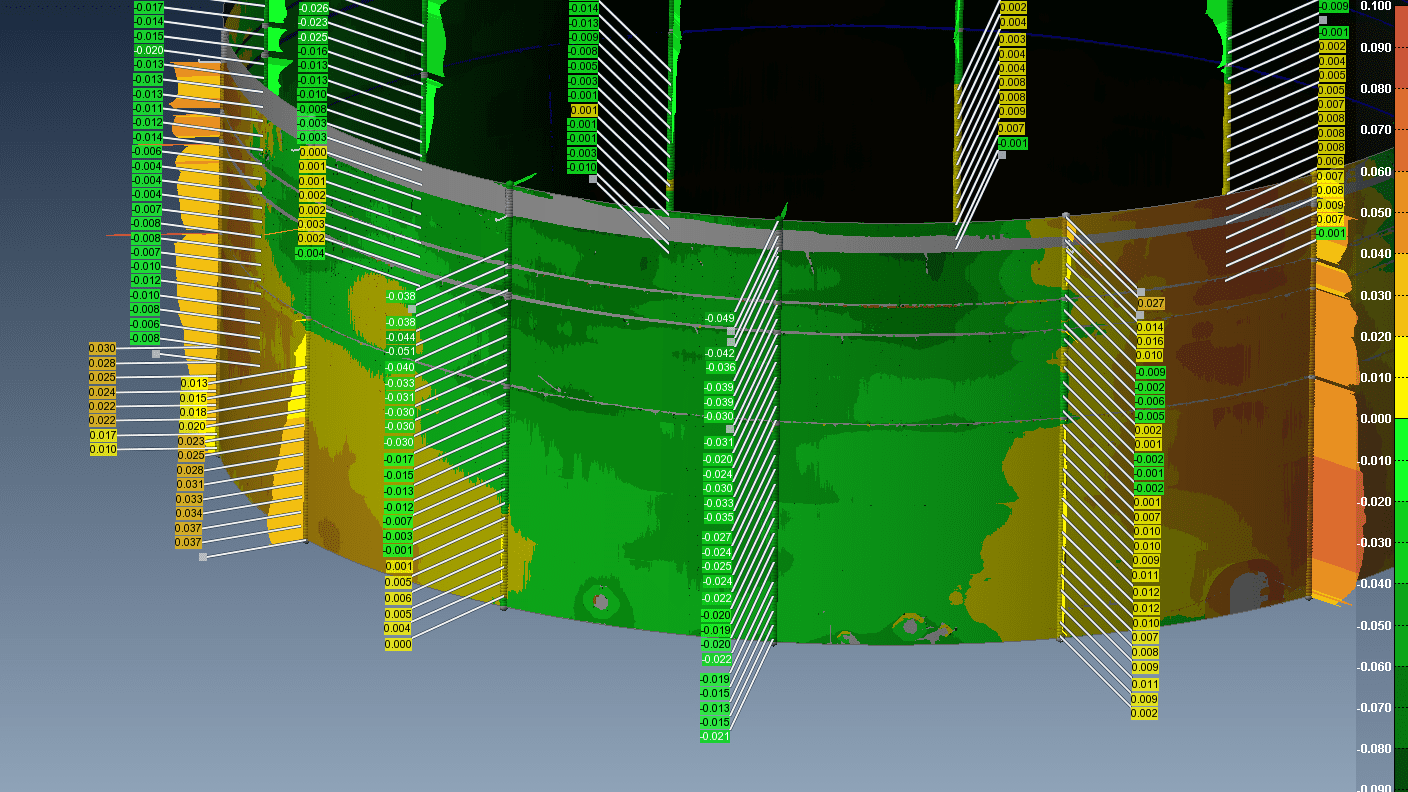 By taking a vertical cut at regular intervals (usually every 10m) through the side of the tank around its circumference, we gauge the tank's vertical integrity.
Using 3D scan data, we take measurements of the height of the skirt around the whole tank, to check for signs of settlement.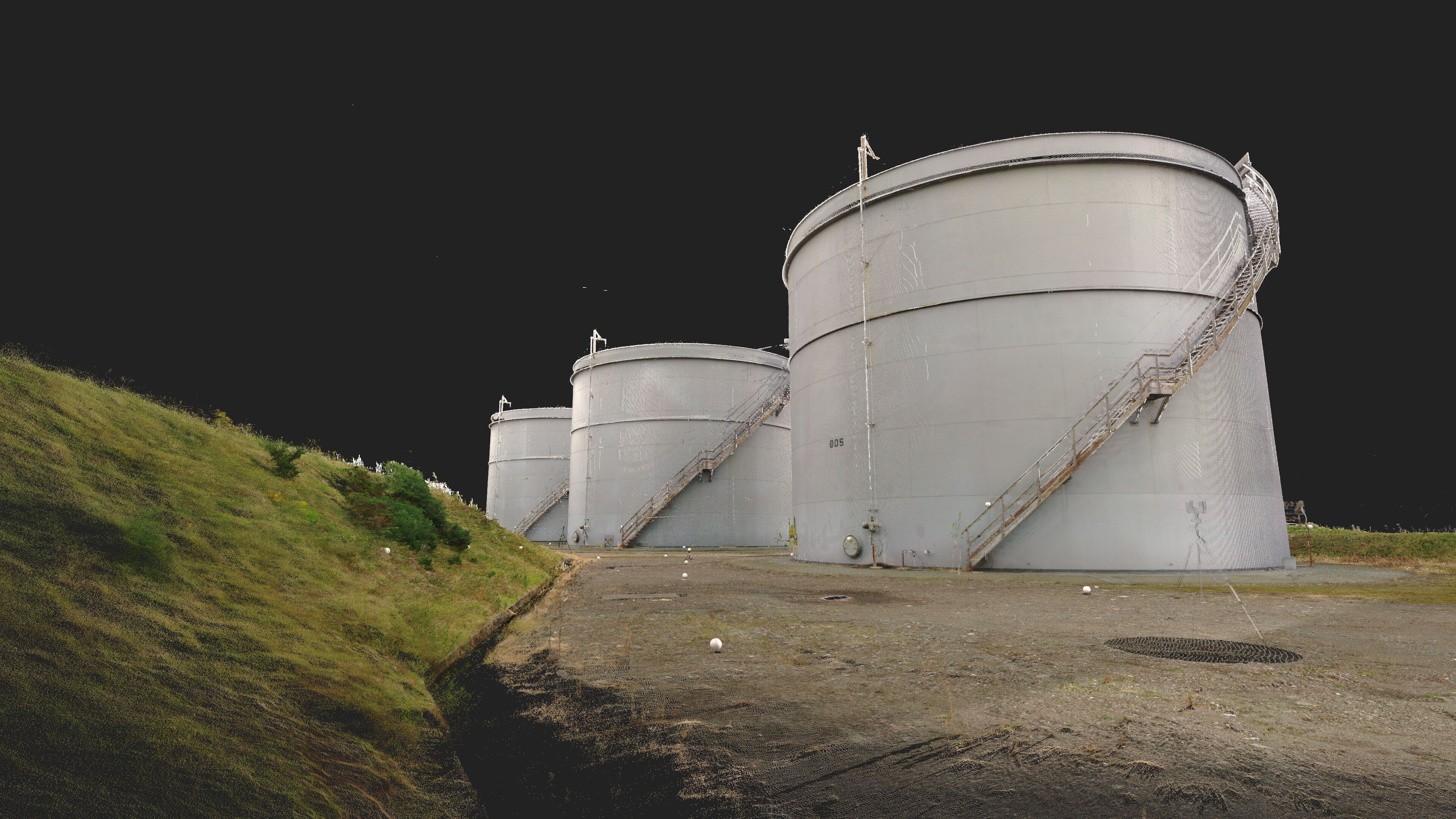 For operators using earth bunds for containment, our scan files offer the most accurate method for calculating bund volumes. We can not only assess ground levels, but can interrogate the variances that occur with natural bunds.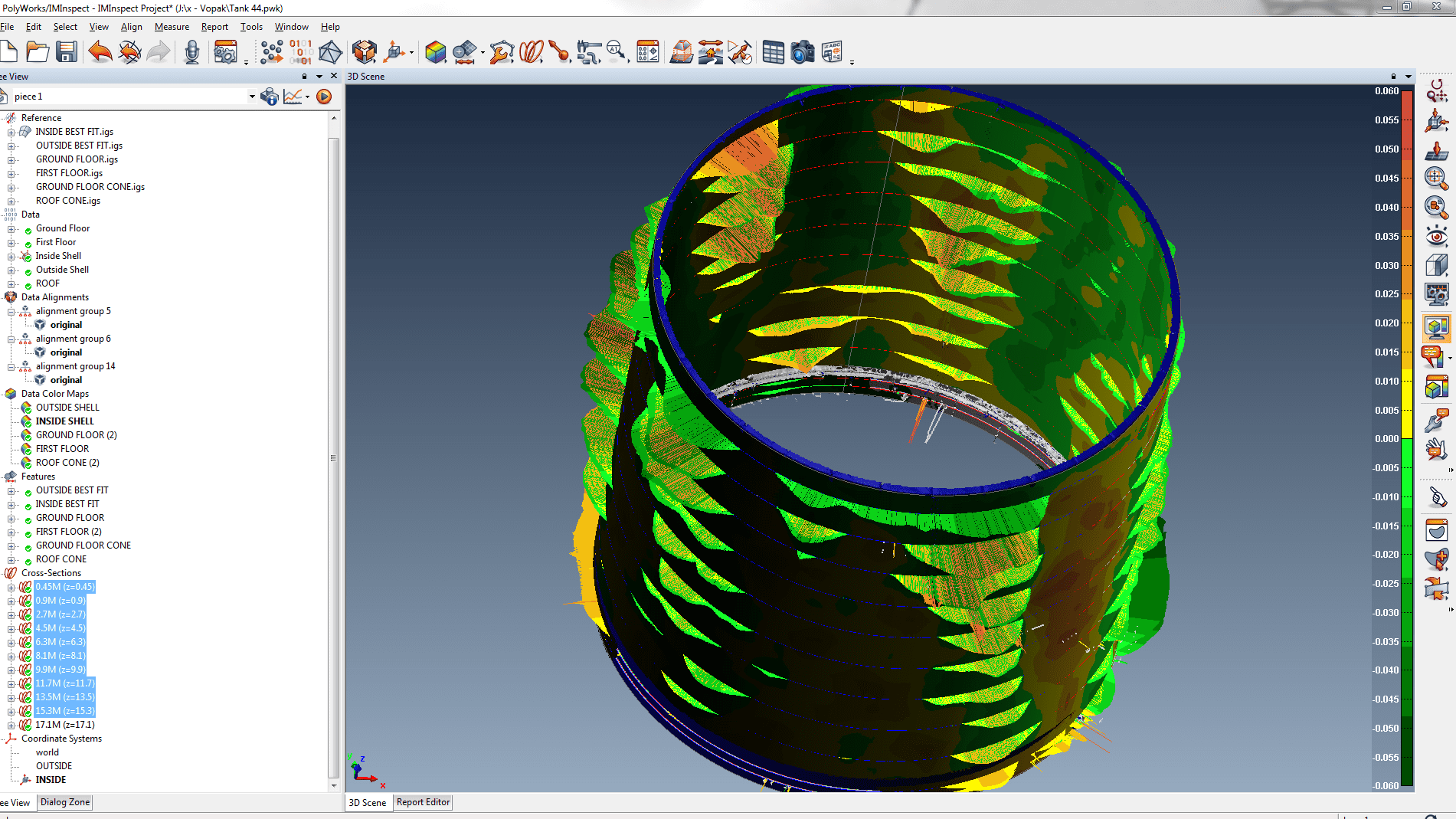 Using scan data from either inside or outside the tank, we capture area measurements, every 1mm up the tank, including volumes from tank nozzles, manways etc. Traditional surveying methods using Total Stations would record 160 points, whereas we are able to record over 1 million per second.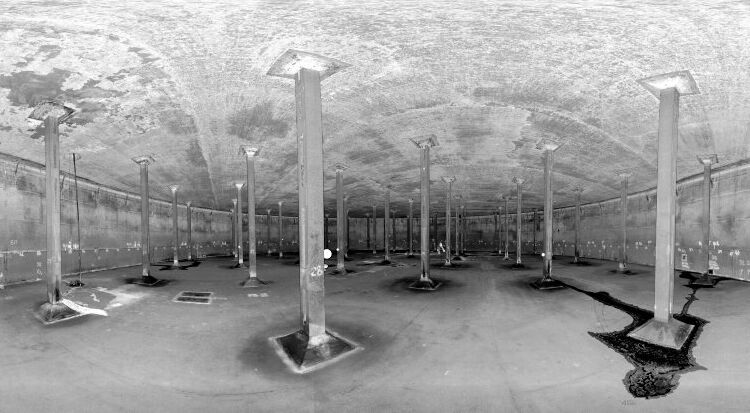 Tank Floor Level Analysis
Surveying within the tank with 3D laser scanners, we are able to map the whole tank floor to accurately calculate the lowest point within the tank, allowing a water draw-off line to be added in the optimal place.
DOWNLOAD
EXAMPLE
To find out more on how having your tanks scanned for tank analysis will benefit you and your business please fill out the form below: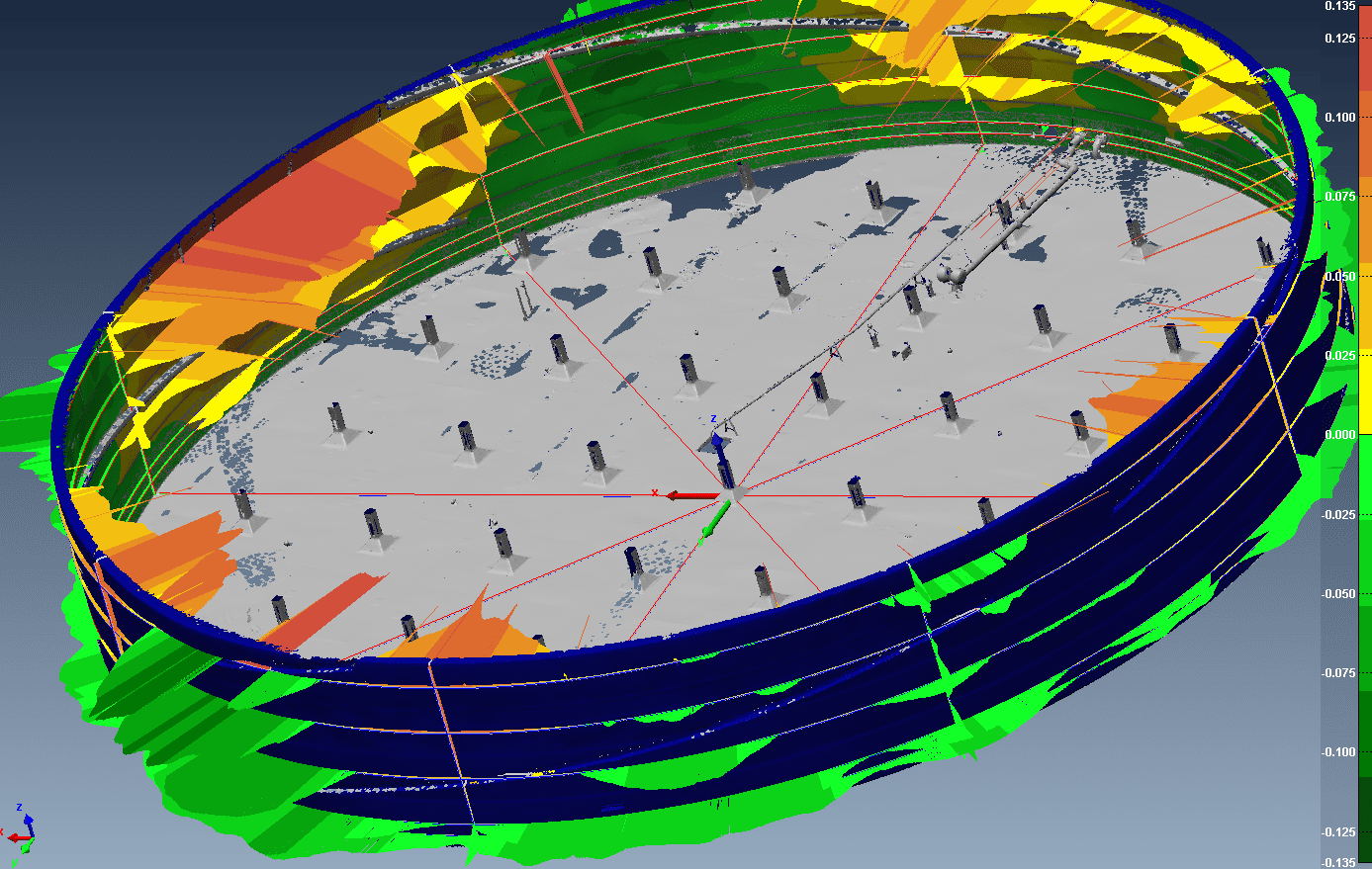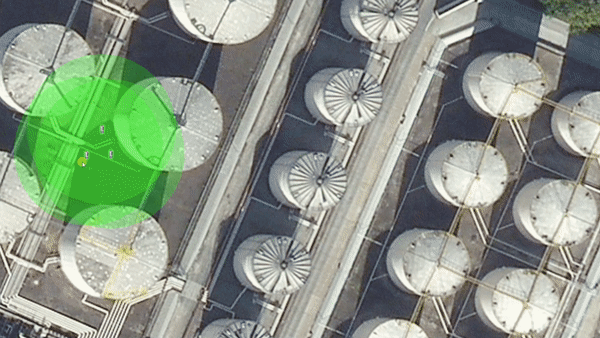 A3D will complete pre-planning in order to determine the most efficient and therefore, cost effective solution.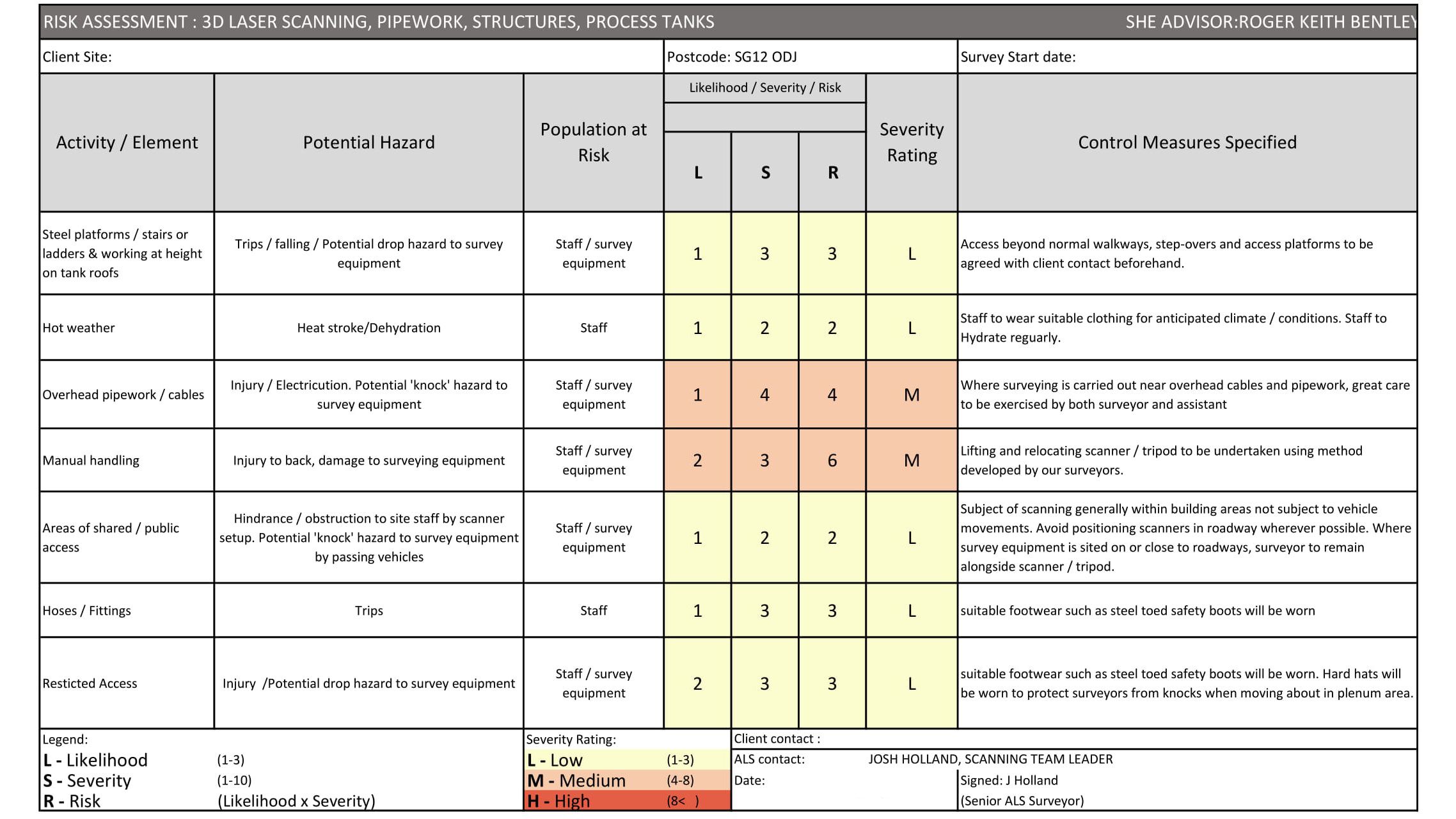 A3D recognise that any form of site work on an operating site must be subject of both RAMS along with planning documents in order to expedite an efficient and safe survey.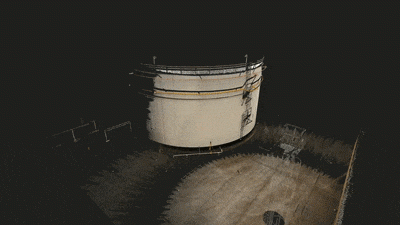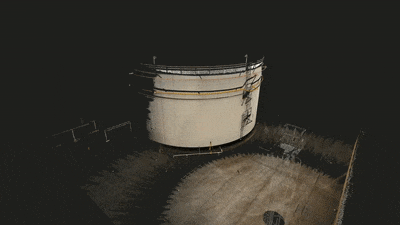 Recognized as the preferred method for accurately capturing measured site data using 3D laser scanning instruments. Traditional methods being time-consuming and subject to error.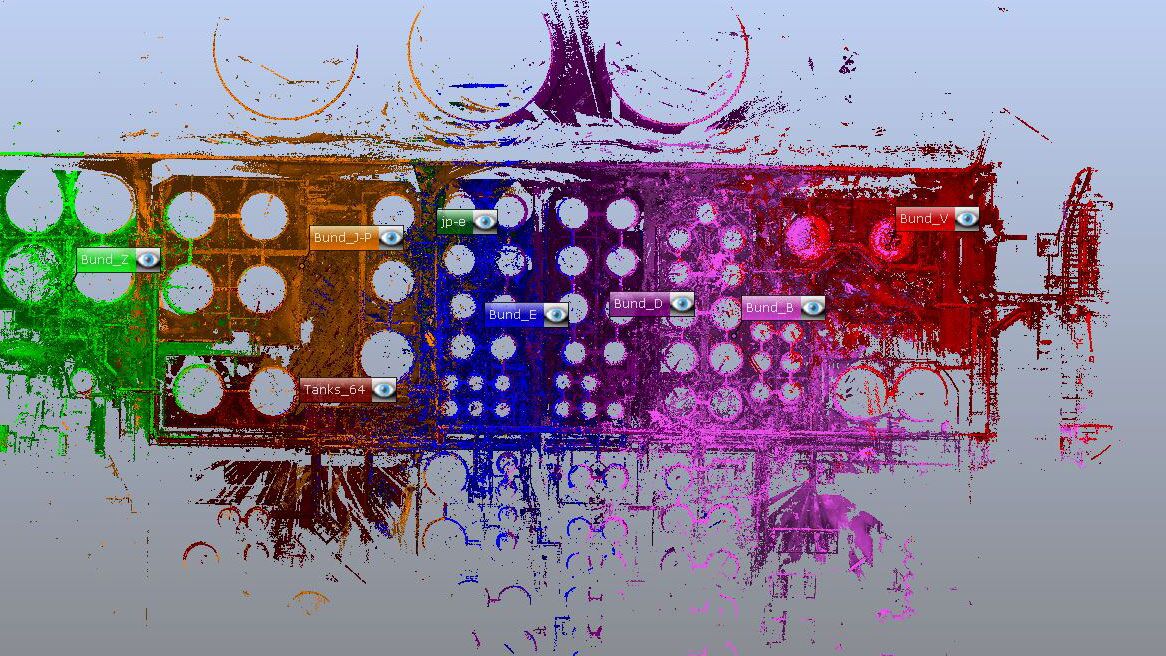 Once A3D has been out on site with the 3D Laser Scanners we then process the scan using faro scene software.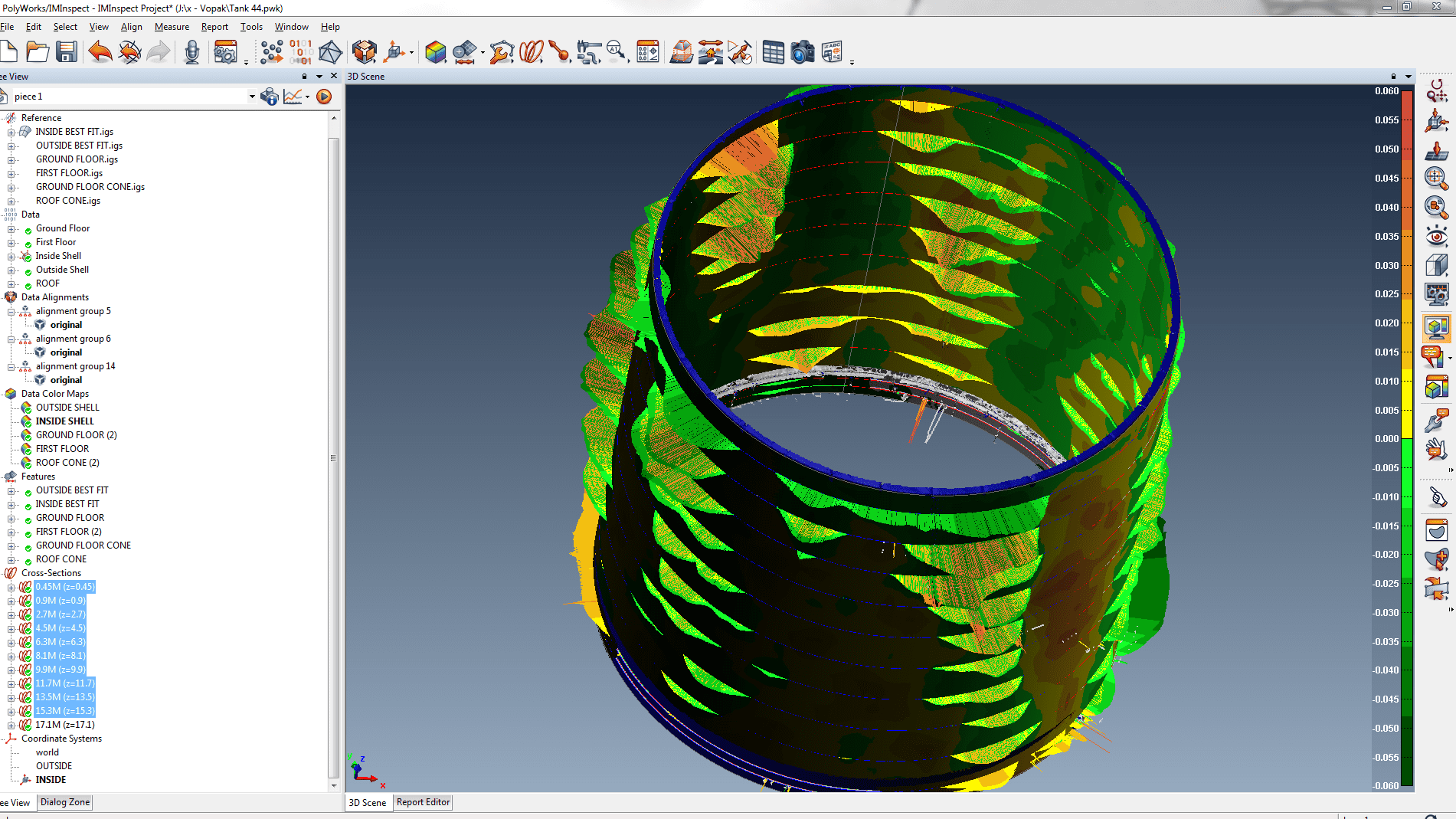 The point cloud data of the tank is aligned with a basic cylinder primitive or existing tank data.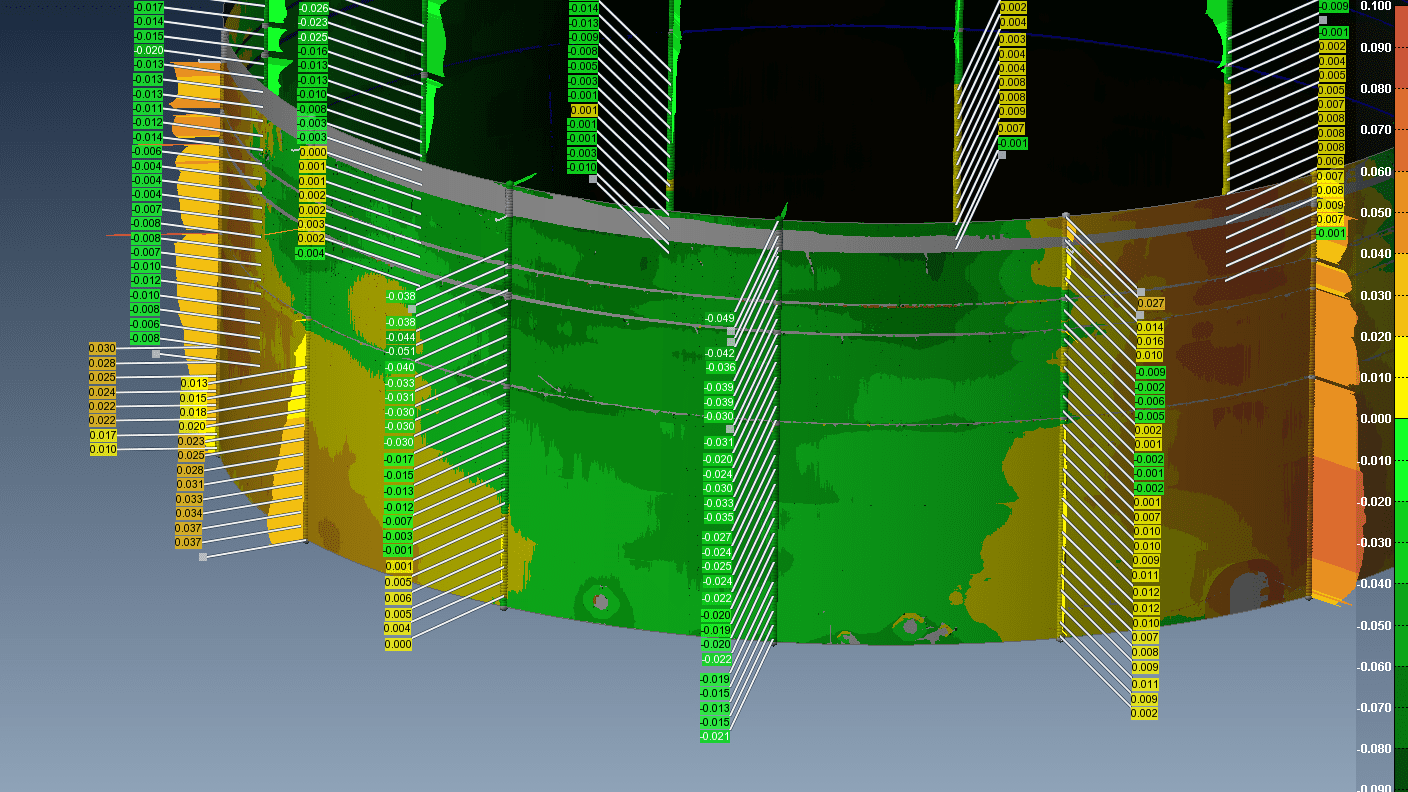 Point cloud data gets positioned against a 3D primitive and the data is analyzed to produce a range of outputs.
DO YOU HAVE A JOB REQUIREMENT LIKE THIS?
FREQUENTLY ASKED QUESTIONS
Do you need access inside the tank?
We don't need access inside the tank as we can collect the data from scanning outside. If you require a tank floor inspection you will need internal access.
Do you have confined space training?
All of our surveyors are equipped with confined space training.
Can your data help us with floating roof hangers?
By Scanning a tank we can work out the ovality which will then give us an idea on how the floating roof will sit when installed.
Can you determine tank movement between two dates?
By collecting the data using laser scanners surveyed for tank analysis the data can be used to see if there's movement over a period of time by having it scanned again. A3D is proud to have established point cloud technologies – now recognized as the preferred method for accurately capturing measured site data using 3D laser scanning instruments – traditional methods are time-consuming and subject to error Piping and instrumentation diagrams (P&IDs) are considered a fundamental requirement for companies managing a process operation. P&IDs play a significant role in its maintenance and modification.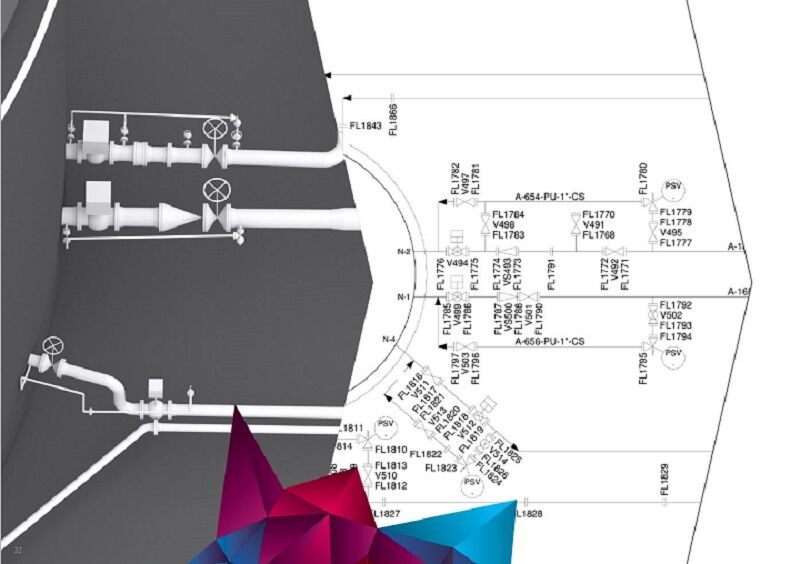 Using 3D process models to cross-validate with smart P&IDs to determine their as-built accuracy and also allow for their on-site documentation to be kept up to date via a 3D model.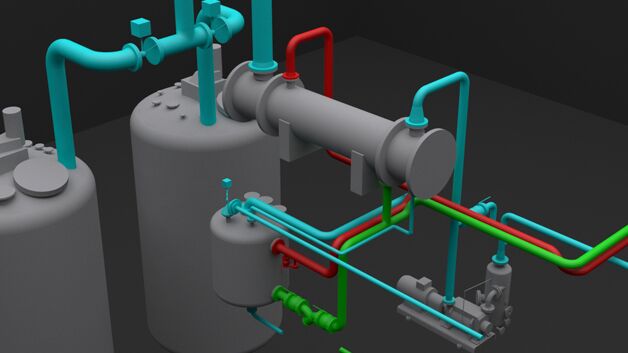 Complete 3D laser scanning and 3D modeling of a specific process area ahead of a new capital initiative. This initiative would require process changes to enable removal of gas from the top of the existing two vessels, compressing the removed gas and returning liquid downstream.
Contact Us
COLIN PITTMAN
P: (+44) 01245 407551
M: (+44) 07435 760153