PLANT DESIGN
We challenge traditional design costs with 3D laser scanning and modeling techniques
SPECIALISTS IN THE PROCESS INDUSTRY CUTTING EDGE 3D SCANNING TECHNOLOGY MAPPING YOUR SITE FOR ANALYSIS, MODELING, AND DOCUMENTATION
Widely acknowledged as one of the foremost 3D laser surveying and modelling companies, we specialise in the process industries. Now, with the launch of our 4D Lizard software, A3D introduces the capability to optimise our Clients' existing asset, document and maintenance management systems, using our process models and P&IDs as a viewing portal. For our smaller process operator Clients, our 4D Lizard software has a built-in management system, providing a vast cost saving. As an economically viable cloud-based viewing platform, 4D Lizard is also used by Clients to view our 3D models and Smart PIDs during construction.
Our success in establishing ourselves within this demanding industry can, in no small part, be attributed to our solid traditional engineering background. Maintaining our knowledge of current legislative influences, A3D continue to support our Clients' operations. Via our suite of 3D technologies, we advise Clients in the many ways a 3D process model can be utilised in support of their business.
Clients value our component models as a basis for carrying out detailed design. Gathering 3D laser scan data, especially data covering elevated pipework/structures, removes the need for temporary access for manual measurements to take place. With the captured 3D data, we can prepare site GAs, complete bund volume analysis, tank visual analysis and develop 3D models, adding further site details from the recorded laser scan files.
Example: We can develop our 3D models to demonstrate conceptual studies as part of a FEED project, offering considerable savings rather than engaging separate companies who usually insist on completing their own site surveys. As FEED moves through to detailed design, the final 3D model will enable export of isometrics to the pipework fabrication packs.
Pipework models that include pipe supports, fittings, valves, and equipment can all be drawn from our 3D catalogs covering mainstream pipe specifications, which can then be exported into detailed isometrics.
This is a segment of a Client site 3D Model. Have a closer look and pan around the 3D Spec Driven model. It illustrates many different elements, e.g., which product is running through the lines.
The modeling software we use at A3D is Auto Cad Plant 3D, with which many of our Clients are familiar, due to its use for other forms of in-house P&ID work. We trace over the data gathered on-site to produce a spec-driven catalogue with all its piping components.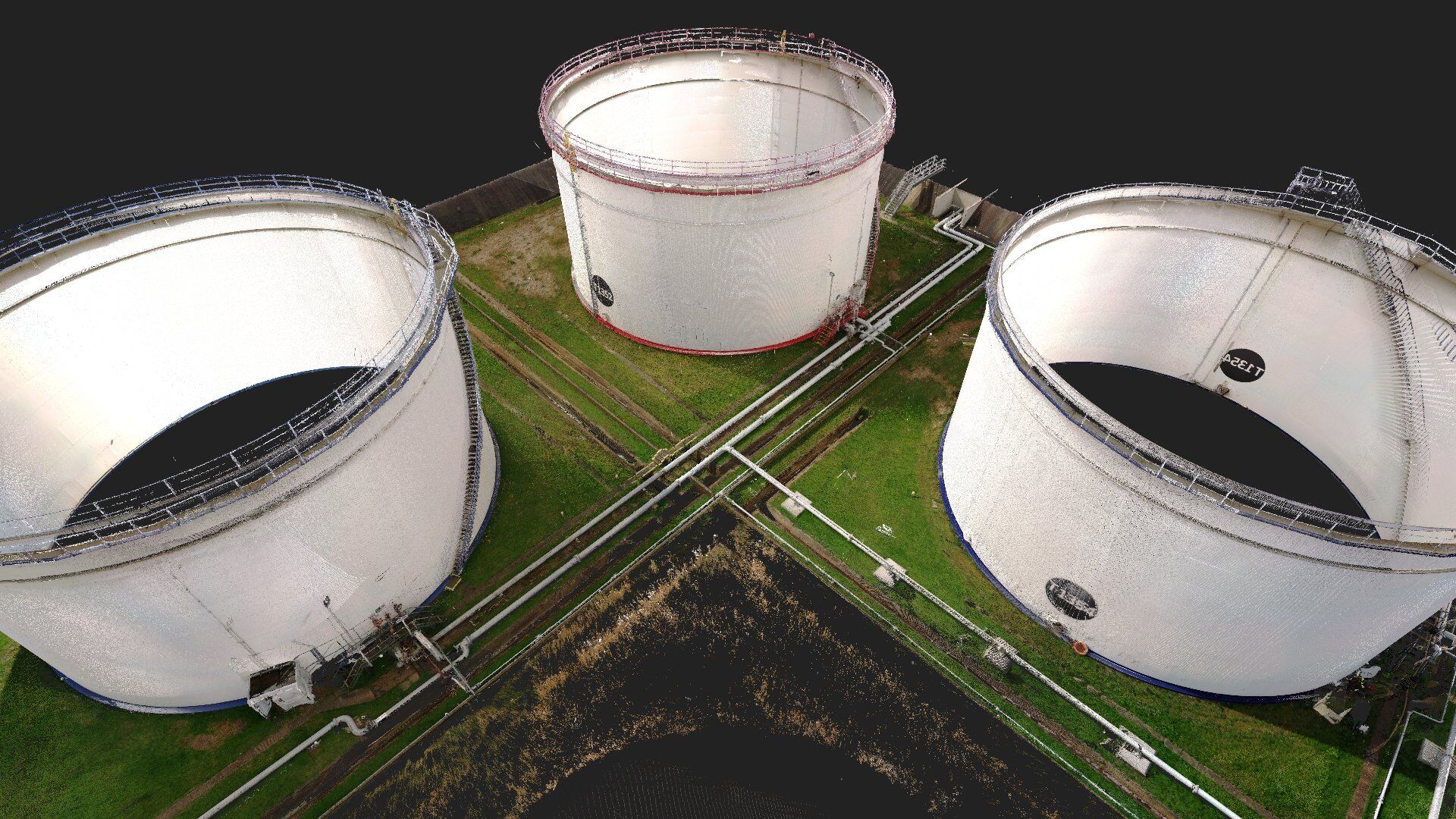 By using proven 3D Laser Scanning techniques, A3D are able to get a full 360 survey of your site, which means we only need to survey your site once to obtain all data for future clash detection.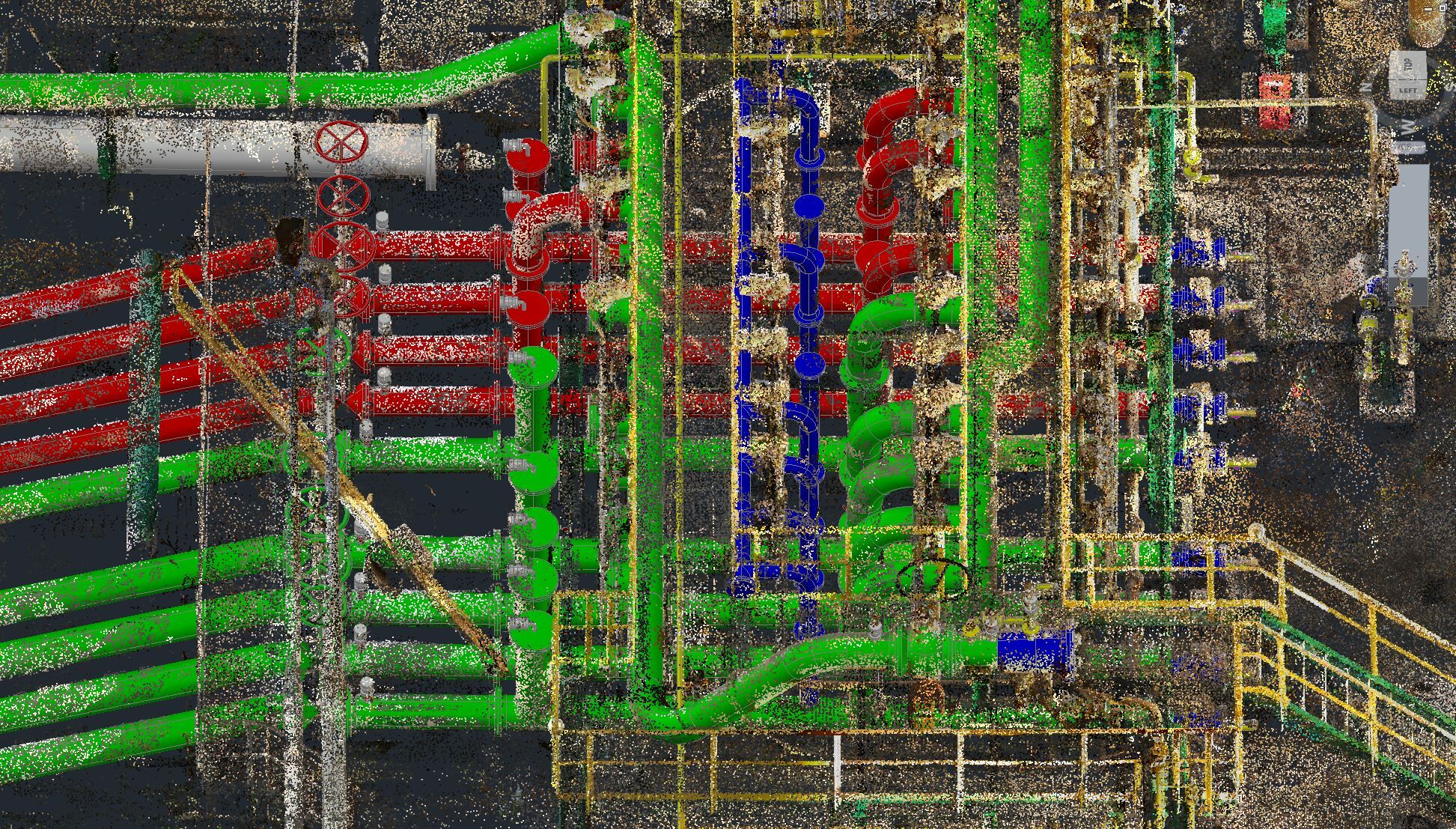 A3D use Autodesk Plant 3D, a cost-effective option for detailed plant design. When coupled with a site's point cloud data, it is a powerful tool to layout pipework and equipment.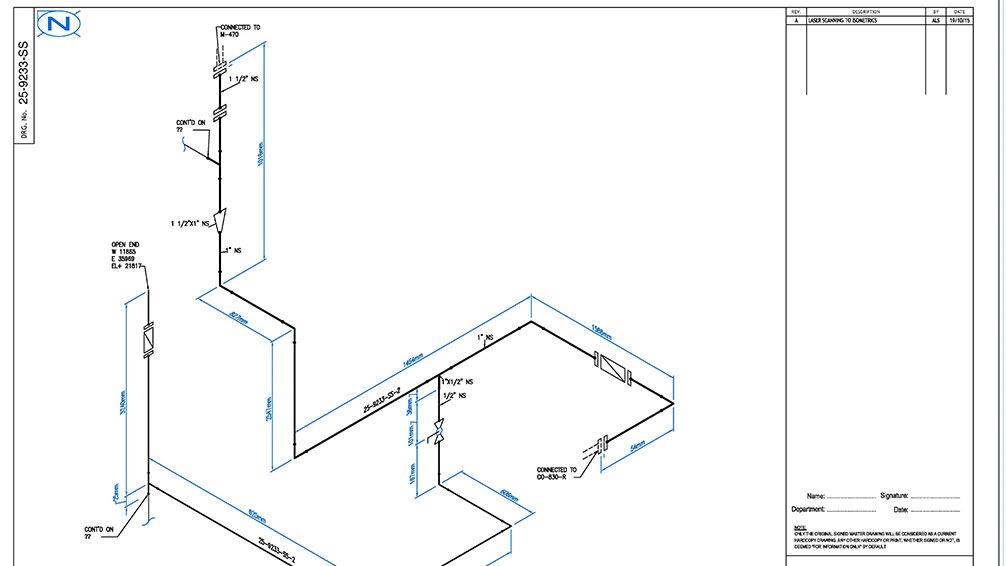 Once the 3D design is complete, it is quick and easy to export detailed isometrics, bill of materials, cut piece lists, weld lists, and all built against clients' design/CAD standards.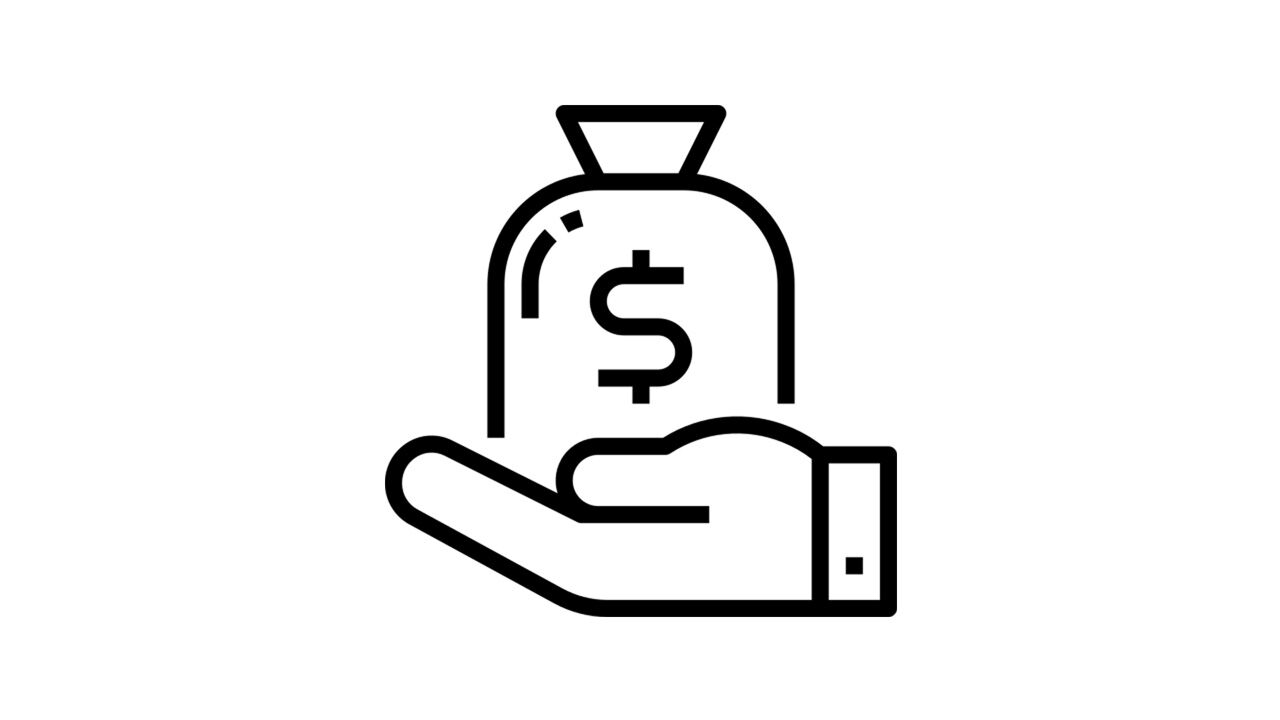 Clients find 3D techniques very cost-effective rather than engaging separate companies who often insist on completing their own site surveys. As FEED moves through to detailed design, the final 3D model will enable the export of pipework fabrication packs.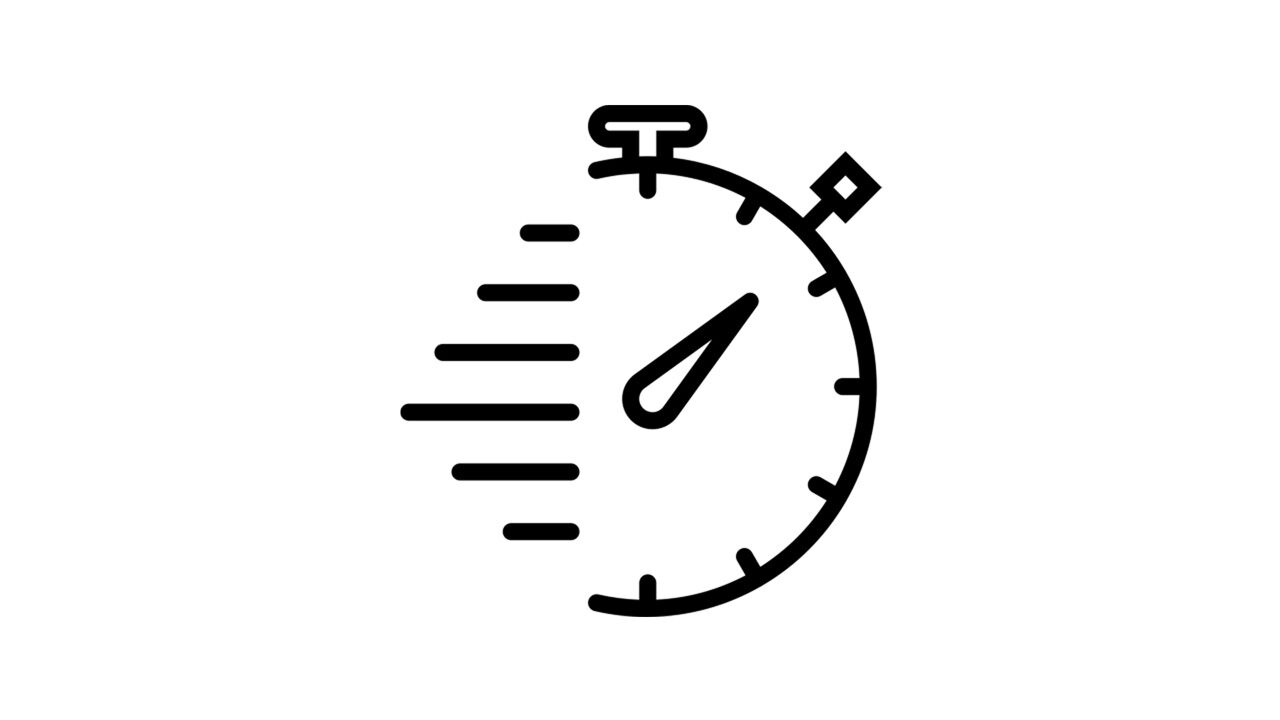 By using laser scanning technology, semi-automated modeling systems and cost-effective modeling design packages, Clients see a reduction in design costs.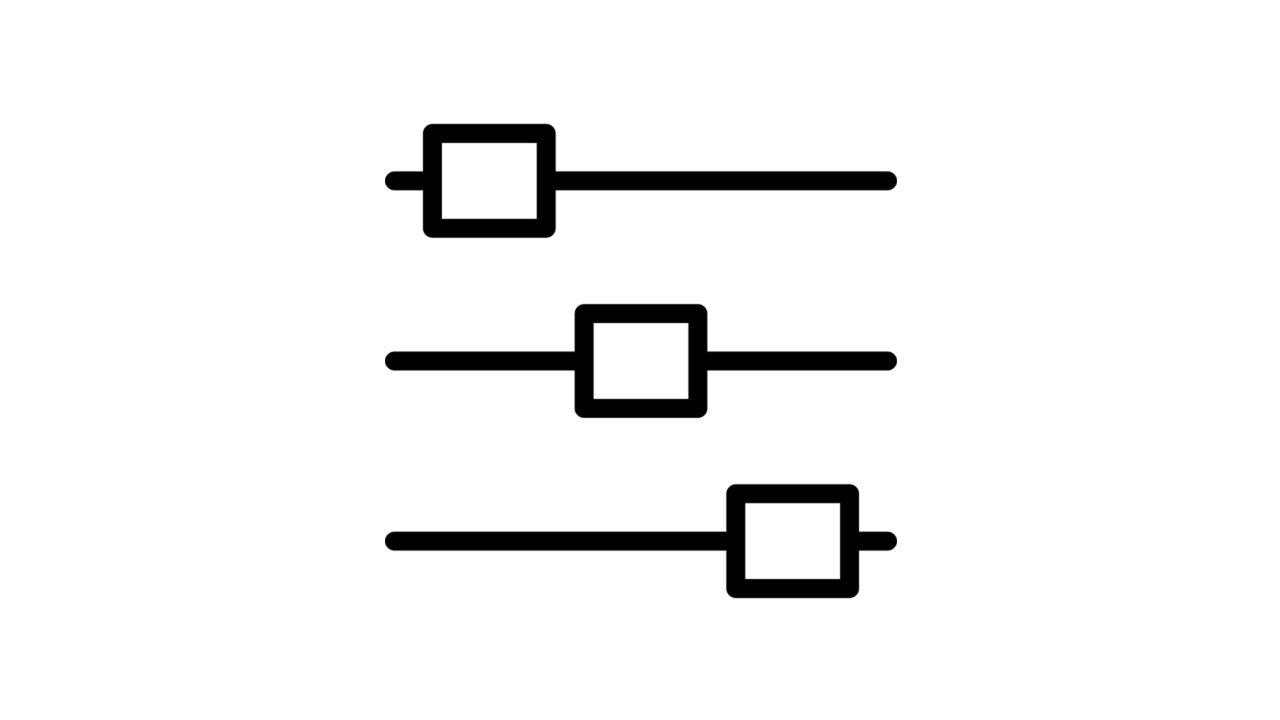 4D Lizard cloud application allows Clients to log in and view a complete picture of design progress, with the ability to comment and upload/download all documentation.
DOWNLOAD
EXAMPLE
To find out more on how having your site scanned and modelled will benefit you and your business, please fill out the form below.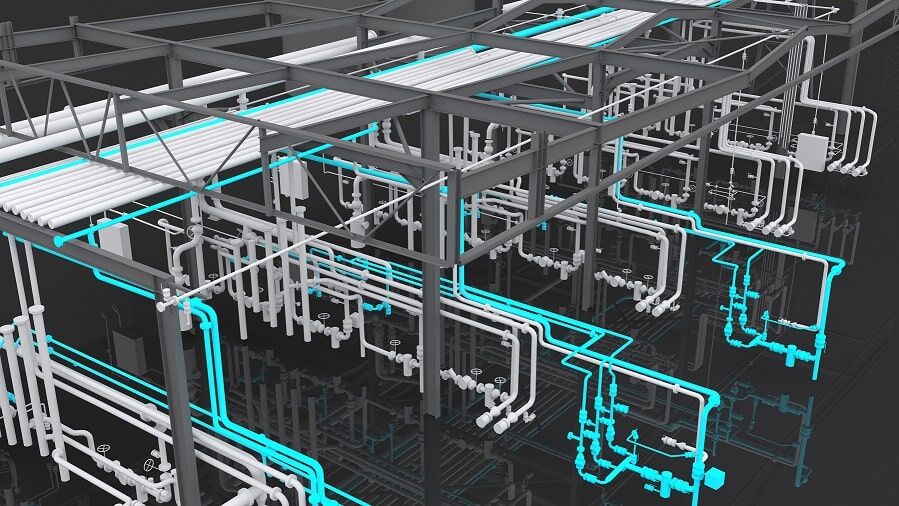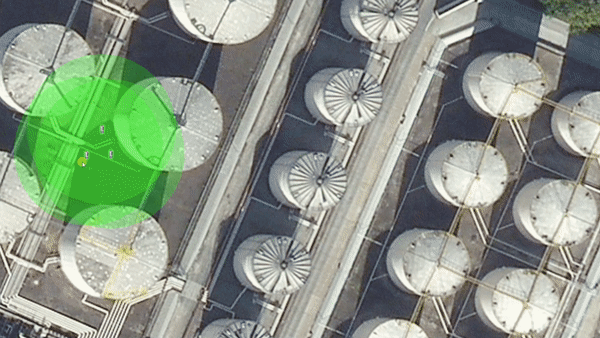 A3D will complete pre-planning in order to determine the most efficient and therefore, cost effective solution.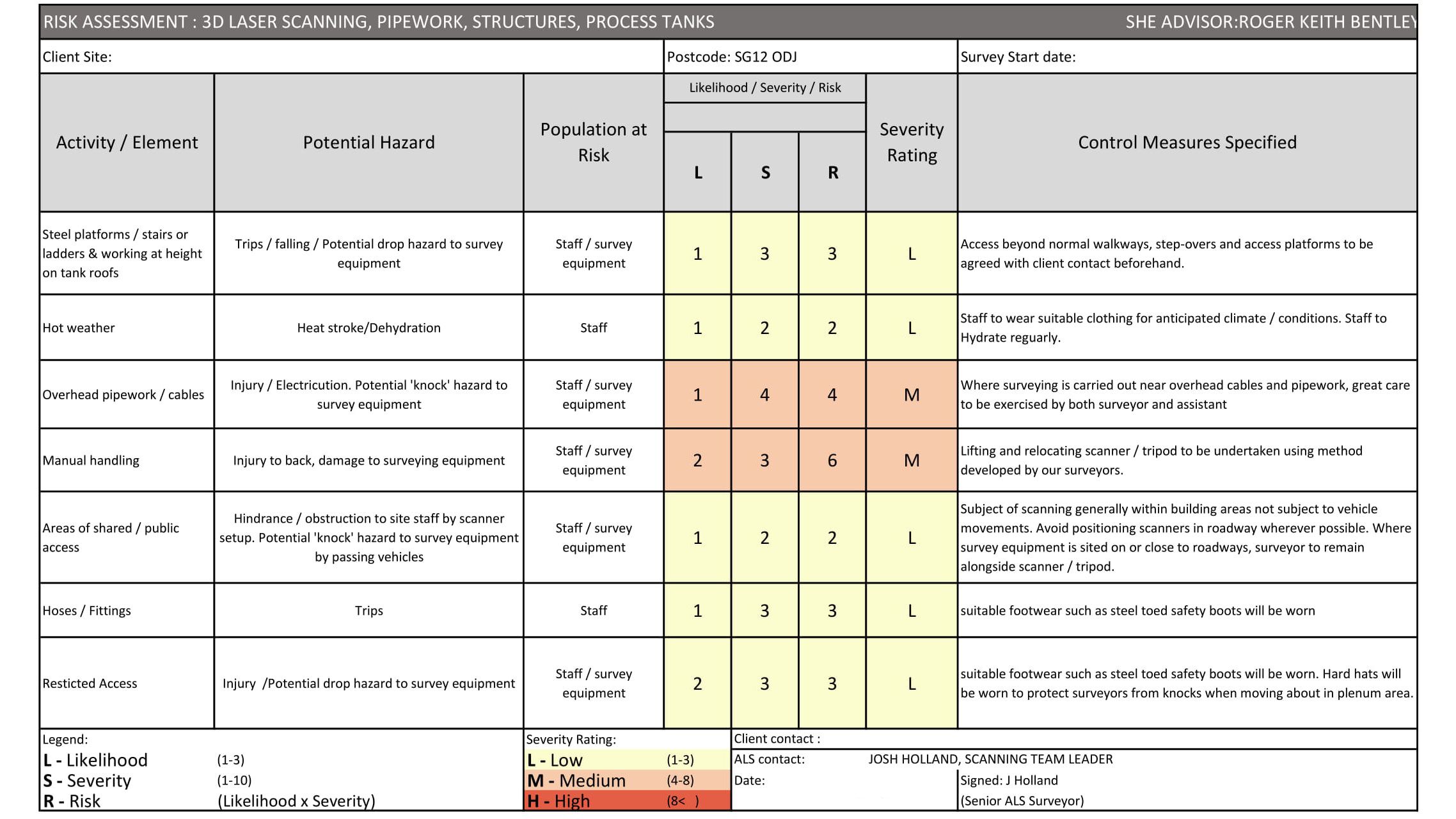 A3D recognise that any form of site work on an operating site must be subject of both RAMS along with planning documents in order to expedite an efficient and safe survey.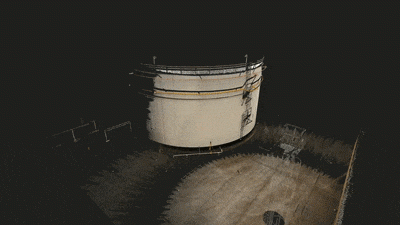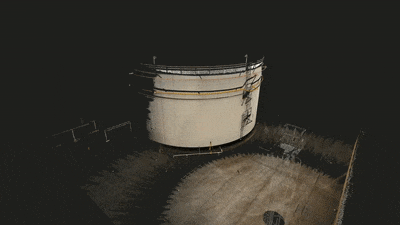 Recognized as the preferred method for accurately capturing measured site data using 3D laser scanning instruments. Traditional methods being time-consuming and subject to error.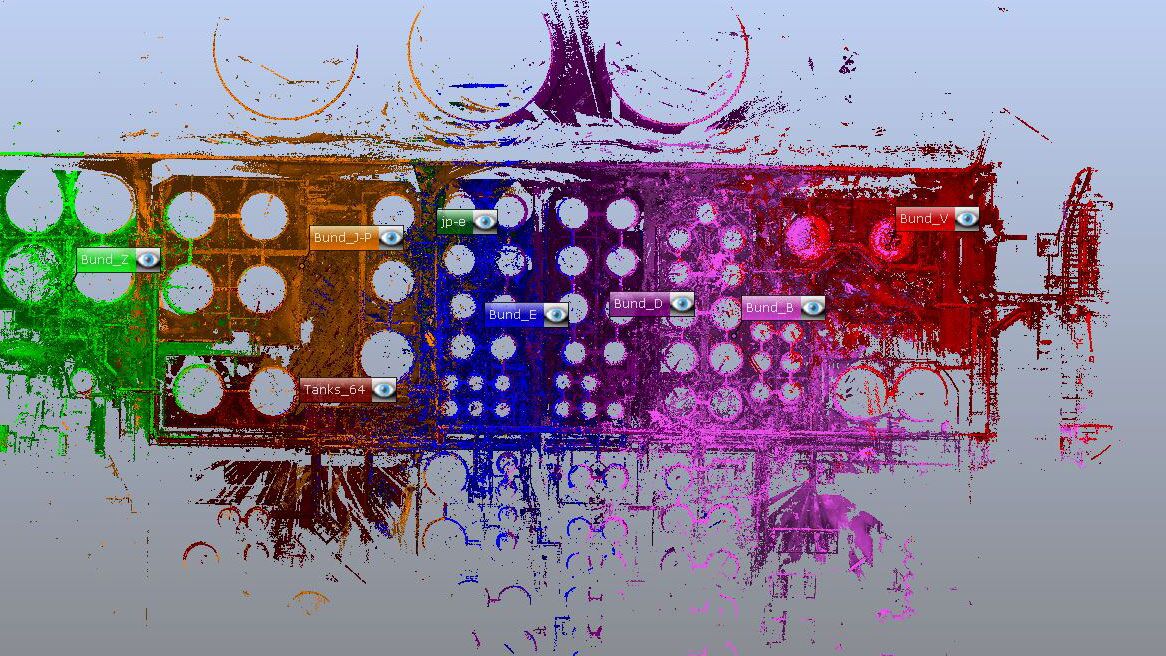 Once A3D has been out on site with the 3D Laser Scanners we then process the scan using faro scene software.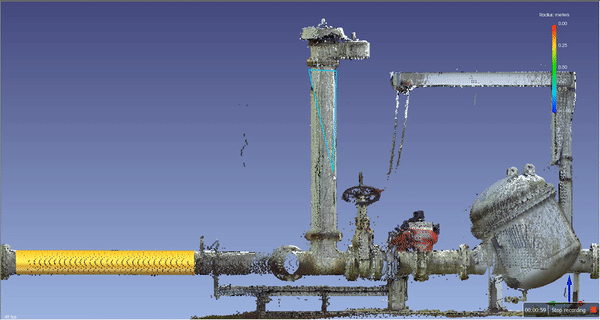 Auto Pipework

Recognition
A3D uses pipework recognition software to pick out the spherical shapes from the point cloud data this saves valuable time modeling.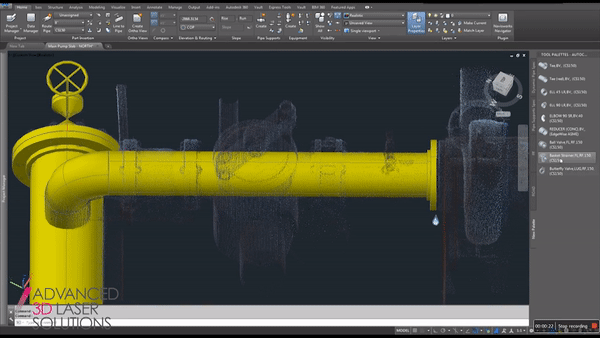 Once A3D has been out on site with the 3D Laser Scanners we then process the scan using faro scene software.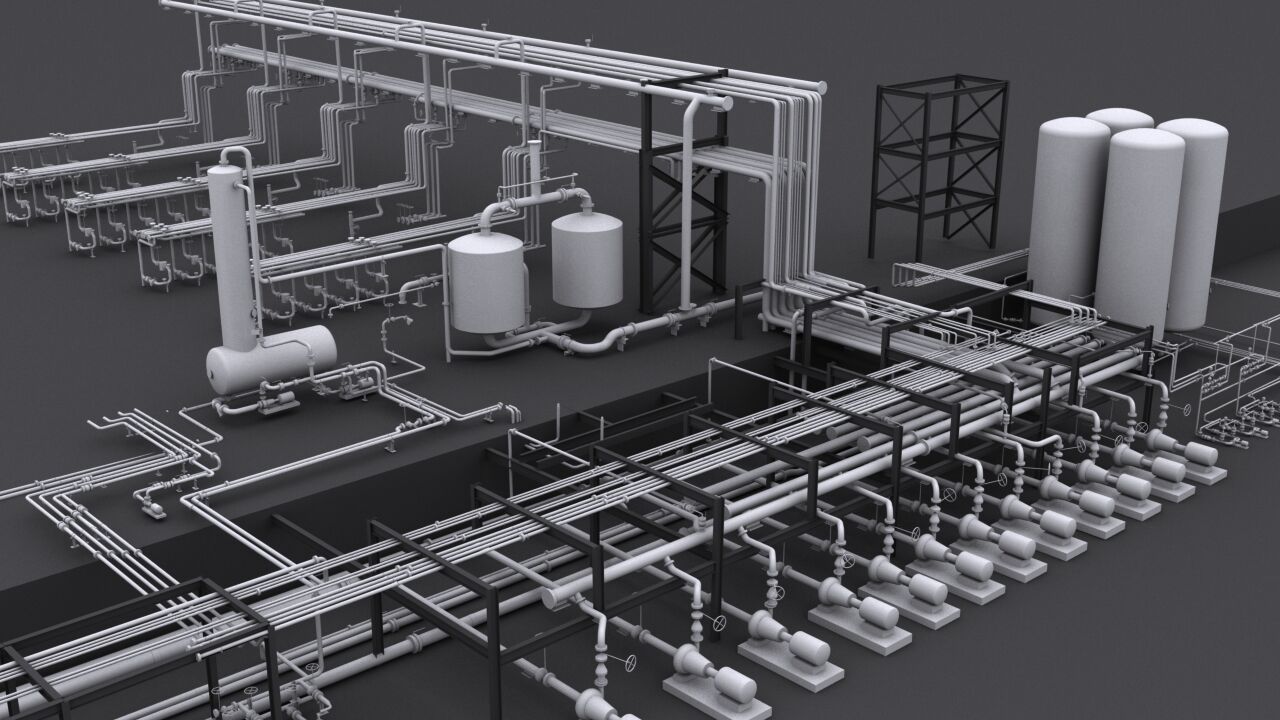 Once A3D has been out on site with the 3D Laser Scanners we then process the scan using faro scene software.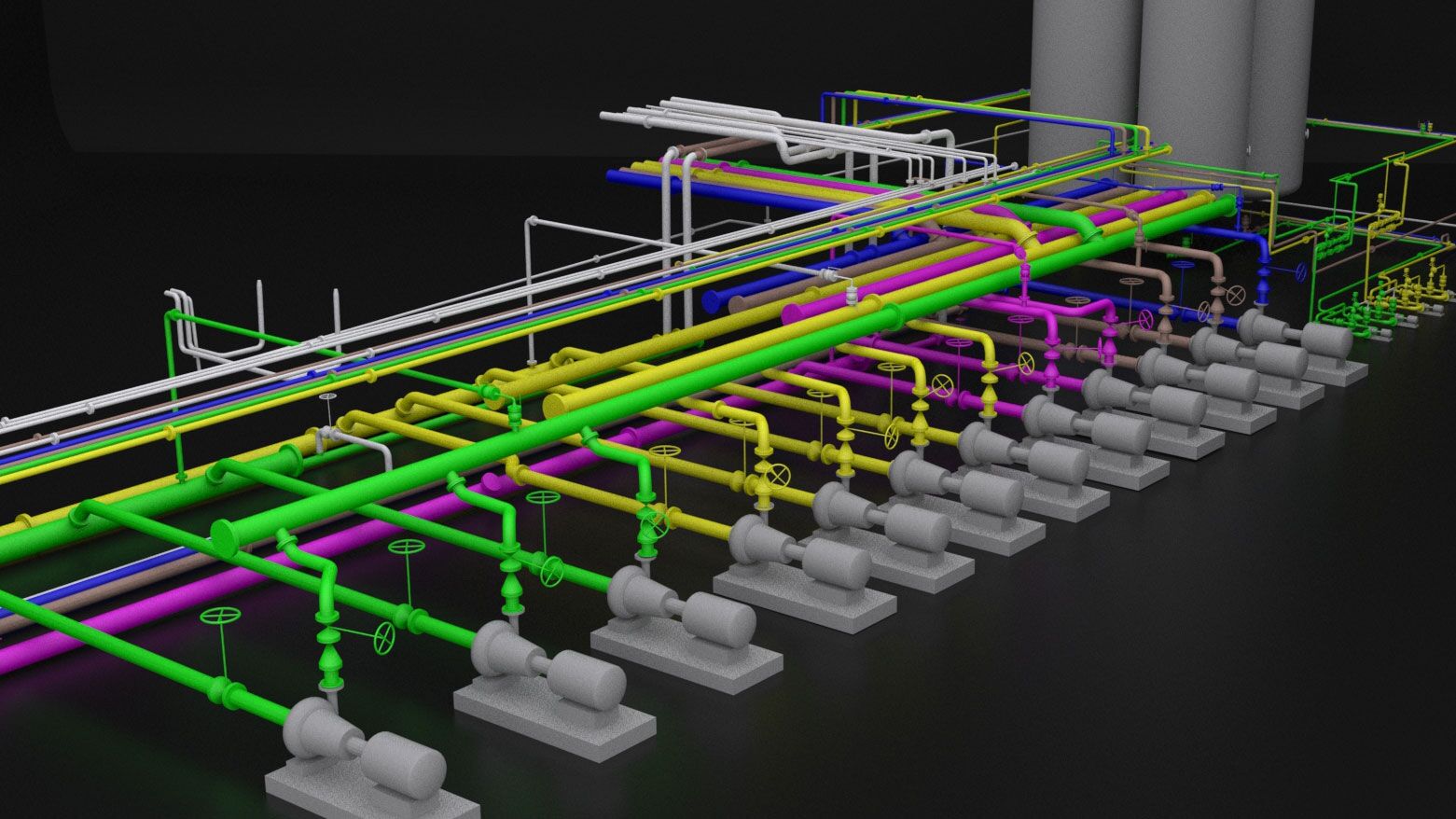 A3D uses the client's specific nomenclature.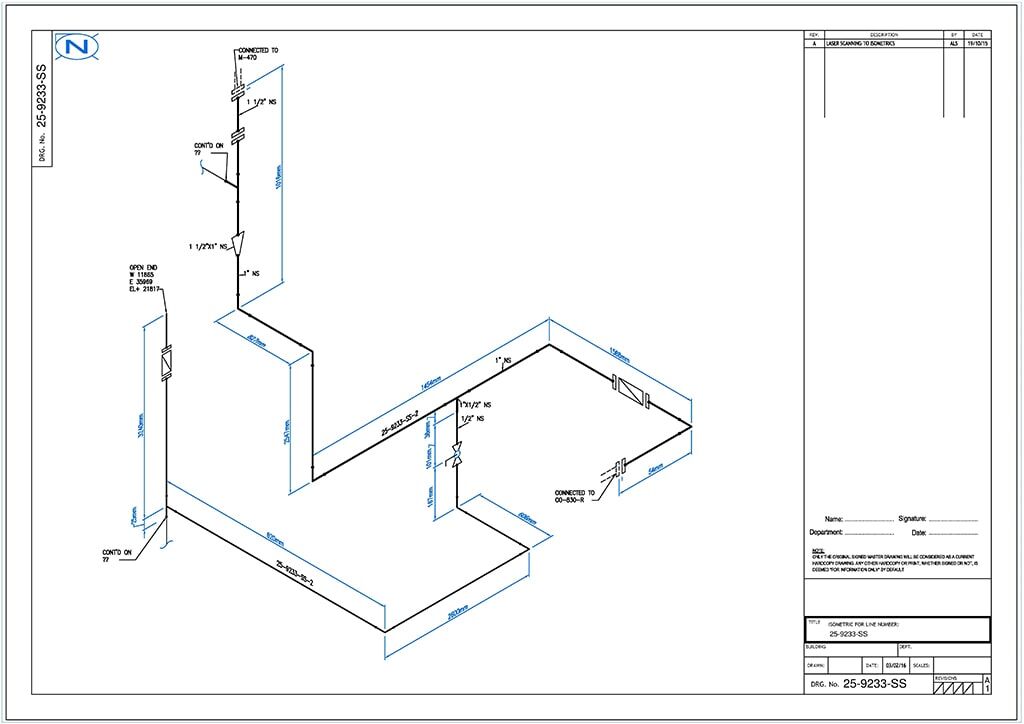 The 3D models we produce feature a list of outputs, including Fabrication Isos, Bill of Materials, Cut Piece, Weld lists and PCF files which can be used later for stress analysis.
DO YOU HAVE A JOB REQUIREMENT LIKE THIS?
FREQUENTLY ASKED QUESTIONS
Do we require specialised software, to use the models?
Our models for digitising terminals are created in Autodesk Plant 3D, so it's highly likely if you already have an AutoCAD licence, you will have access to the same software package.
Will we have access to the scan data?
A3D give our Clients full access to the point cloud data, including Webshare access.
Do you have case studies for design work?
Please speak to our Colin Pittman (07435 760153) who will be able to send over case studies and testimonials to you.
What will happen to the model after the project is finished?
All files are sent over to our Client after completion and archived for a year and will then be deleted, unless agreed otherwise.
Can you model in Pipe Supports?
Absolutely, we have access to a huge range of different pipe supports, which can help aid NDT API570 inspection and help with pipe stress analysis.
How do you model in valves?
All our piping components, flanges, valves, elbows, tees etc., are brought in via a piping standard catalogue, for instance, for many of our UK clients we use an ASME catalogue.
How do you know what spec you're modelling too?
We use multiple methods, for instance using P&IDs, pictures from scan data and if these aren't available we work with our Clients' engineering teams.
Can the models export Bill of Materials?
Yes, as long as the Spec components are created correctly. When a flange valve is modelled in, the package we use ensures the gasket and bolt set are all accounted for in dimensions and BOM.
Can the models be used for asset management?
Absolutely! We can set up your models to store detailed information on individual assets, including serial number, service, status, design pressure and more.
Does A3D supply stress analysis?
This is not a service we currently supply but our members of our supply chain can work with our files to provide this service. A3D is proud to have established point cloud technologies – now recognized as the preferred method for accurately capturing measured site data using 3D laser scanning instruments – traditional methods are time-consuming and subject to error Piping and instrumentation diagrams (P&IDs) are considered a fundamental requirement for companies managing a process operation. P&IDs play a significant role in its maintenance and modification.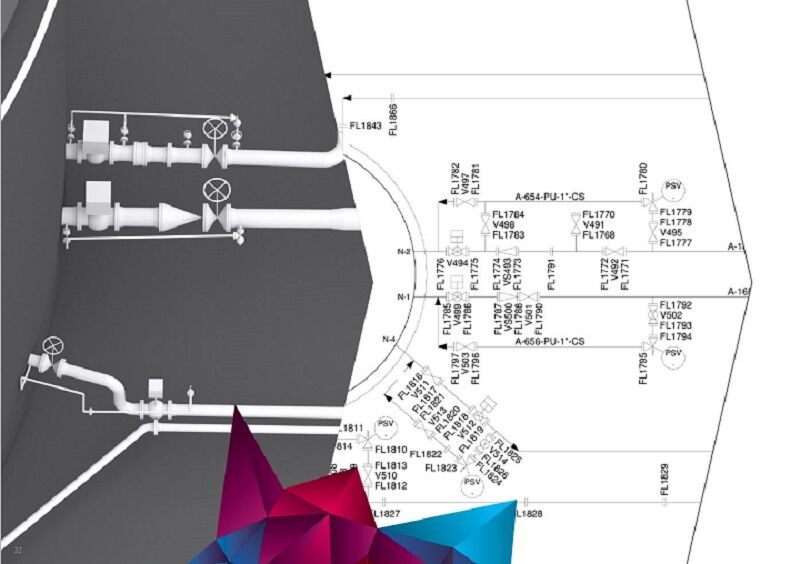 Using 3D process models to cross-validate with smart P&IDs to determine their as-built accuracy and also allow for their on-site documentation to be kept up to date via a 3D model.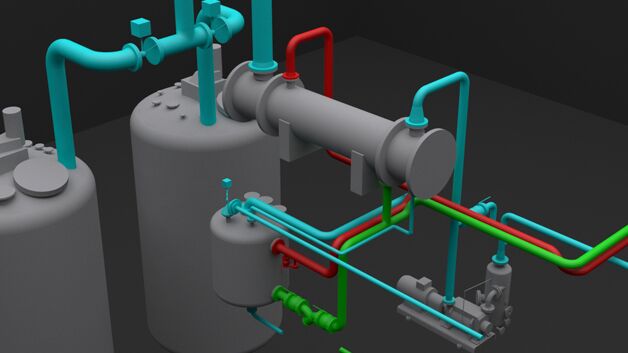 Complete 3D laser scanning and 3D modeling of a specific process area ahead of a new capital initiative. This initiative would require process changes to enable removal of gas from the top of the existing two vessels, compressing the removed gas and returning liquid downstream.
Contact Us
COLIN PITTMAN
P: (+44) 01245 407551
M: (+44) 07435 760153