3D LASER SCANNING
Our 3D laser scanners capture data with +/-1mm accuracy, removing the need to revisit sites
SPECIALISTS IN THE PROCESS INDUSTRY CUTTING EDGE 3D SCANNING TECHNOLOGY MAPPING YOUR SITE FOR ANALYSIS, MODELING, AND DOCUMENTATION
We are proud to have established point cloud technologies, now recognised as the preferred method for accurately capturing measured site data using 3D laser scanning instruments. Time consuming traditional methods, which are subject to error, are being consigned to history. 3D laser scanning instruments provide cost-effective, accurate results, alongside scan file registration.
Our accomplished, efficient surveyors can complete a large site in days (e.g., 100-200 tank storage terminal requiring 1000-2000 scans).
Our process modelling projects, undertaken by our in-house, dedicated team, return from laser surveying to process our Client's 3D models and P&IDs. Our approach, backed by our background in engineering, ensure A3D deliver accuracy of scan data and 3D modelling to the highest of industry standards. Additionally, our trained surveyors record equipment specific data using Go-Pro cameras when required.
Our internal training, covering all aspects of laser surveying and modelling, ensures a consistent standard, maintaining our status as the 'go to' company within the process industry.
Laser scanning is far more efficient than traditional methods, recording site assets in a fraction of the time
This is a segment of a Client site 3D Model. Have a closer look and pan around the 3D Spec Driven model. It illustrates many different elements, e.g., which product is running through the lines. These models can offer a number of different outputs.
For a typical laser scan, the 3D laser scanner completes two phases:
Phase 1 collects measured points, recording X, Y & Z locations, point intensity, and color. Phase 2 captures 70 Megapixel high-resolution pictures used by the Webshare image.

Hands down 3D laser scanning is widely accepted as the fastest measured surveying method. Its ability to record up to 960k points per second up to a 1mm accuracy, enables A3D to record your site assets in a fraction of the time traditional methods take.

Due to its speed of recording, your site asset data is obtained incredibly fast and in great detail, providing you with considerable savings. With our range of bolt on applications, A3D can offer tank analysis, 3D models, facilities management and plant videos.
3D scanners use a safe pulse laser, allowing people to move in and around our survey areas. And as we don't need to actually touch any of your onsite assets during a 3D laser survey, we significantly reduce risks to surveyors from Slips and Trips/Working at Height using traditional methods. From ground level, we capture elevated detail otherwise inaccessible without temporary platforms.
DOWNLOAD
EXAMPLE
To find out more on how having your site scanned will benefit you and your business please fill out the form below.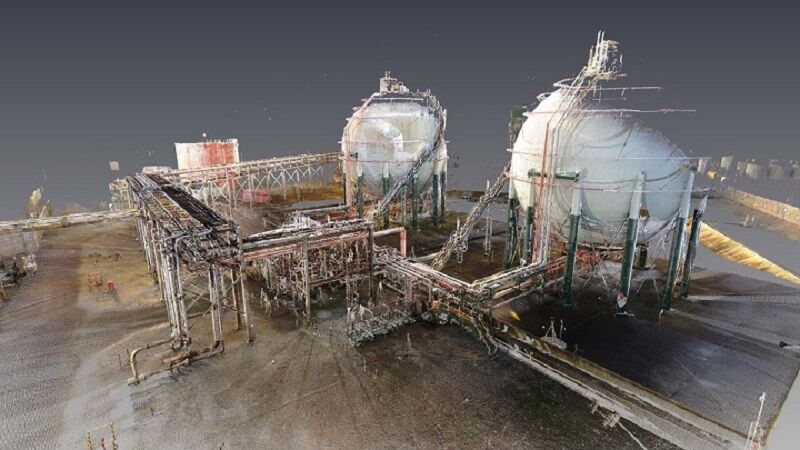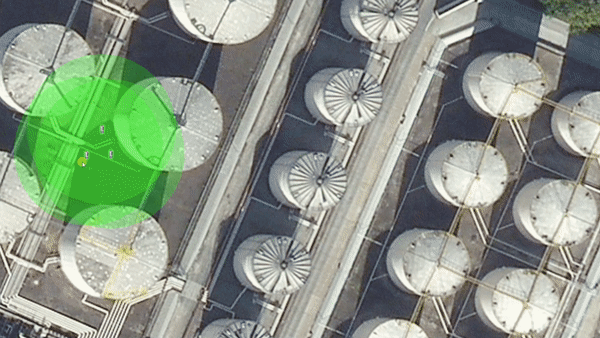 A3D will complete pre-planning in order to determine the most efficient and therefore, cost effective solution.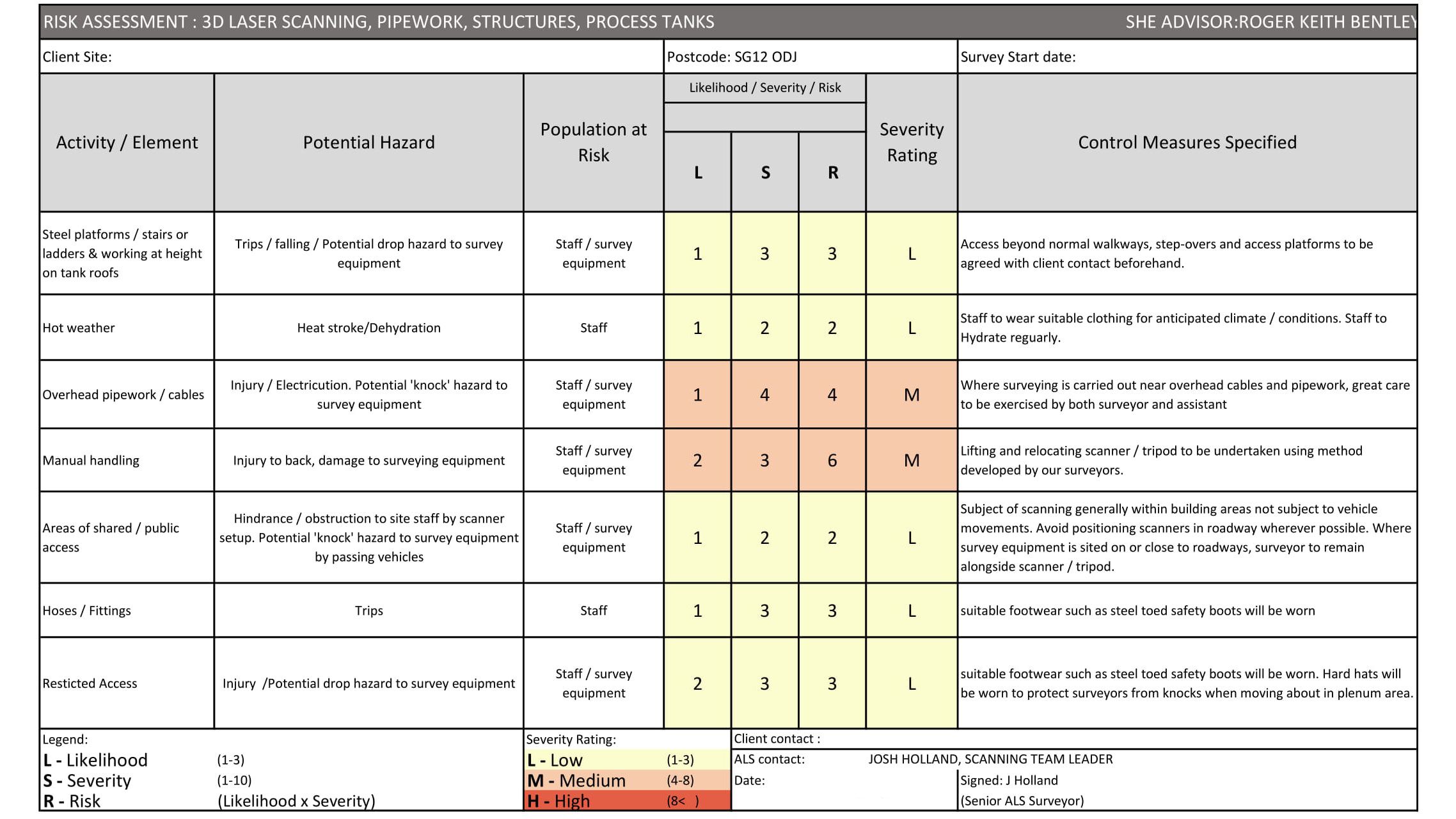 A3D recognise that any form of site work on an operating site must be subject of both RAMS along with planning documents in order to expedite an efficient and safe survey.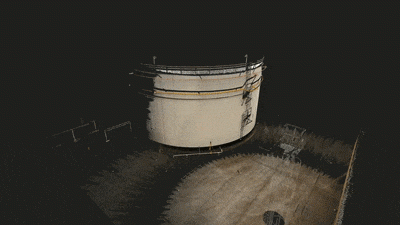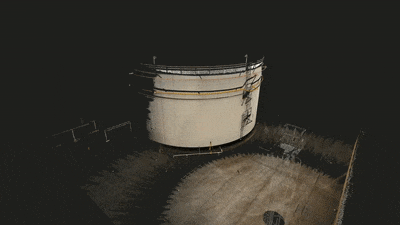 Recognized as the preferred method for accurately capturing measured site data using 3D laser scanning instruments. Traditional methods being time-consuming and subject to error.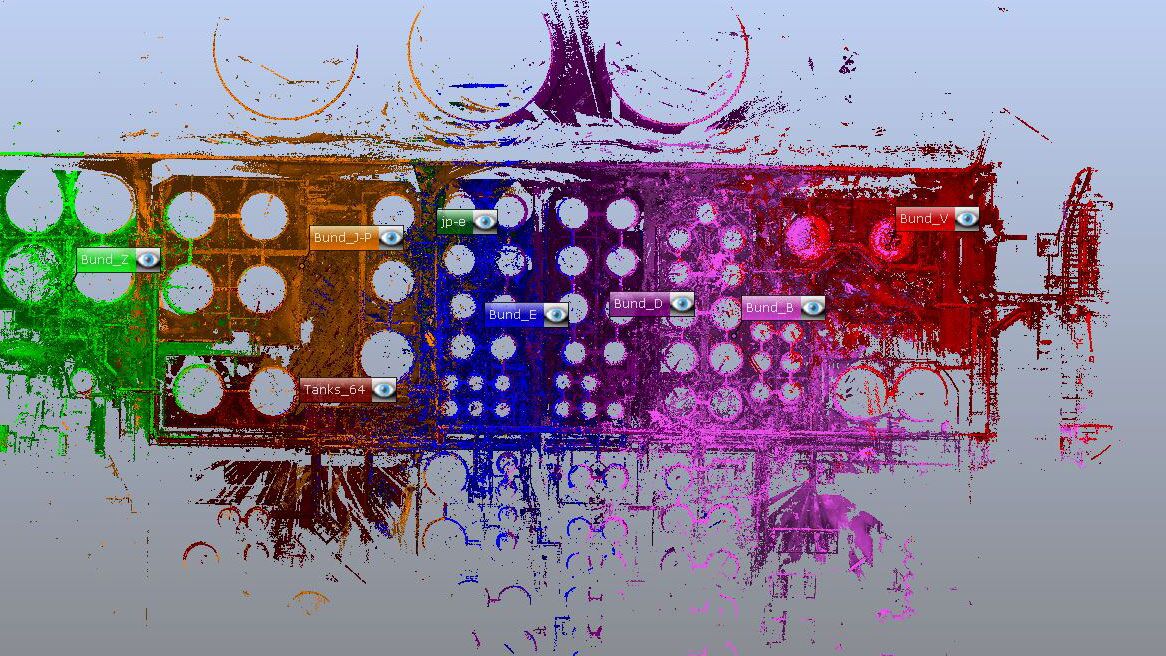 Once A3D has been out on site with the 3D Laser Scanners we then process the scan using faro scene software.
DO YOU REQUIRE A SERVICE LIKE THIS?
FREQUENTLY ASKED QUESTIONS
Is it intrinsically safe?
No the 3D Laser scanner is not intrinsically safe, when on sites with explosive atmospheres we do require a hot work permit and only change the battery back in the offices in a safe enviroment.
What will it record ?
A Laser scanner captures everything in its line of site
Do we need to stop production?
Production can proceed as Laser Scanning is non invasive alongside experienced surveyors who have experience in working on COMAH sites.
How accurate is it?
Laser Scanners records data accurately up to +/- 1MM.
why not use a drone ?
At ALS we have researched the use of drones in Laser surveying but the level of accuracy we need to carry out the modelling of a site isn't enough, as we have only found that they work to an accuracy of 15mm our pipework recognition software needs clear data to work and drones just aren't enough yet. Which is fine but the laser scanners do the job well enough without the support of drones. We have realised that tank surveys will benefit from the use of drones.
Will it detect underground pipework?
Laser scanners cannot detected underground pipework, ALS use GPRS to survey pipework underground. Piping and instrumentation diagrams (P&IDs) are considered a fundamental requirement for companies operating a process operation. P&IDs play a significant role in the maintenance and modification of the process that it describes and should be maintained The vast engineering experience from over 30 years working within process industries has resulted in A3D now leading in the production of 'brown field' technical process models. A3D recognized the importance of our skilled 3D laser surveyors' site familiarity. The A3D Tank analysis reports deliver critical information with a level of detail not previously achieved using traditional methods. since we are using advanced 3d laser scanners without the need for temporary access platforms, thus technology is a market-leading competitively priced alternative.
Contact Us
COLIN PITTMAN
P: (+44) 01245 407551
M: (+44) 07435 760153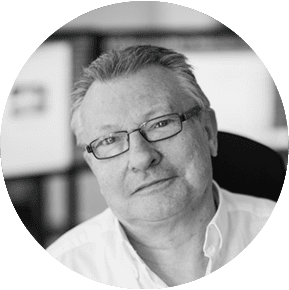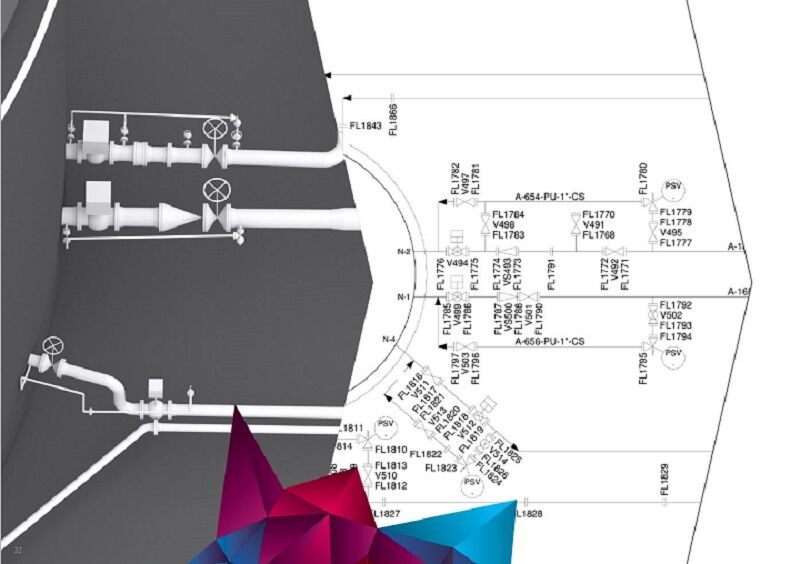 Using 3D process models to cross-validate with smart P&IDs to determine their as-built accuracy and also allow for their on-site documentation to be kept up to date via a 3D model.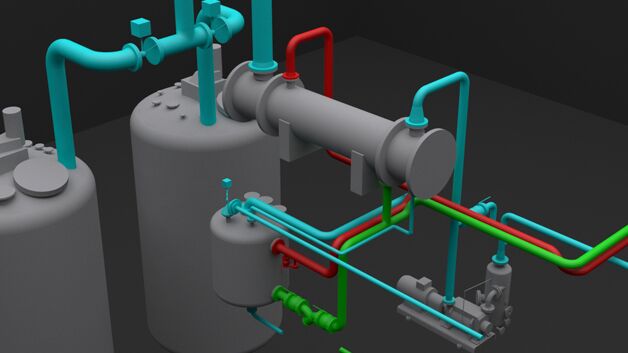 Complete 3D laser scanning and 3D modeling of a specific process area ahead of a new capital initiative. This initiative would require process changes to enable removal of gas from the top of the existing two vessels, compressing the removed gas and returning liquid downstream.